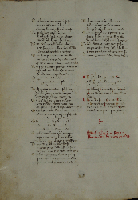 32. Dante Alighieri, The Divine Comedy; Boethius, De consolatione philosophiae
(vernacular translation)
Central Italy (Florence), 14th century
parchment; 325 x 230 mm (fols. 1–6), 372 x 267 mm (7–101); fols. iv (paper) + 101 + iv (paper)
Pluteo 90 sup. 125

This composite manuscript, written in two columns in an elegant bastard cancelleresca hand, consists of a main incomplete section containing Dante's three canticles, preceded by six folios with fragments from Cantos I–III, VIII–IX, XX–XXII, XXVIII and XXIX of the Inferno, serving as partial completion of the text, and followed by Alberto della Piagentina's vernacular translation of Boethius' De consolatione philosophiae (fols. 83r–101r), likewise incomplete. Alongside MS Triv. 1080, written in 1337 and so far the first dated example, this codex provides solid documentation of the activity of Francesco di ser Nardo da Barberino, who worked as a scriptor in Florence in the first half of the 14th century and subscribed the end of the third canticle (fol. 80v): "Franciscus ser Nardi me scripsit in Florentia. Anno Domini mcccxlvii. Indictione Ia". The rubricated note is preceded by the scribe's initials, "F.N.", also rubricated. According to Petrocchi, the codex was the model for the group known as the 'Danti del Cento'. The story about a group of 100 manuscripts, all written by the same scribe who was forced to undertake this task so that he could afford a dowry for his daughters, originates from an anecdote recounted by the 16th-century scholar Vincenzio Borghini in his Lettera intorno a' manoscritti antichi (ed. Belloni 1995, 21): "During those times most scribes were people who had open shops and lived by copying books for a fee, and it is said that, with the 100 Dantes that he wrote, one of them married off I don't know how many daughters, and some of them, called those of the [group] of 100, can still be found". The scribe would later be identified as Francesco di ser Nardo. Today, however, he is credited with establishing an active scriptorium in Florence, in which other scribes he trained made elegant copies of Dante's work that were similar in layout (in two columns), decoration and script. The decoration includes filigree initials and an initial adorned with plant motifs and a gold background on fol. 93r (the folios missing at the beginning of the canticles were probably illuminated as well), which Alvaro Spagnesi has tentatively attributed to the school of the Biadaiolo Master. The codex was once in the Gaddi family library (fol. ivr), part of which was purchased by the Biblioteca Laurenziana in 1755. The manuscript is open at fol. 80v, bearing the subscription of Francesco di ser Nardo. [e.a.] Bandini 1774–8, V, cols. 399–400; Marchesini, 'Danti del Cento' 1890, 24; Marchesini, 'Ancora dei Danti del Cento' 1890, 20, 21; Mostra di codici romanzi 1957, 35–6; Mostra di codici 1965, 54; Petrocchi 1966, 66–7 and passim; Roddewig 1984, 63–4; Boschi Rotiroti 2000, 122, 125; Spagnesi 2000, 147, 150 note 8, figs. 9–11; Bertelli 2003, 410–2; Boschi Rotiroti 2004, 8, 18, 43 note 22, 45, 47, 72, 73, 77, 78 and note 22, 79, 81, 82 fig. 11, 84, 119, 156, 190 plate 22, 191 plate 23.