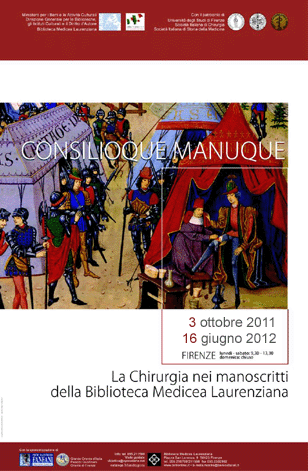 ---
The exhibition "Consilioque manuque. Surgery in the Manuscripts of the Biblioteca Medicea Laurenziana" will be open from 3 October 2011 to 16 June 2012. Consilioque manuque is the motto of the Académie Royale de Chirurgie, founded in Paris in 1731, which paved the way for surgery as an academic discipline. Through the Laurentian manuscripts, the exhibition itinerary, arranged in chronological order, bears witness to the development of surgery, from traumatology in ancient Greece, discussed in Homer's poems, to the treatises of the Corpus Hippocraticum, Roman surgery with Celsus' De medicina and Pliny's Naturalis Historia, moving on to the Mediterranean basin and the works translated of Avicenna and Albucasis, translated from Arabic.
TThe exhibition features a number of fascinating works such as the 4th-century papyrus with a fragment of Soranus' De morbis muliebribus, the manuscript with the collection of Nicetas' surgical texts, compiled in Constantinople and purchased for the library by Lorenzo the Magnificent, Avicenna's Canon medicinae, richly illuminated in Ferrara in the mid-15th century, and the French manuscript of the Chirurgia magna by Lanfranc of Milan.
The manuscript production has been supplemented by printed works on loan from the Biomedical Library of the University of Florence, which round out this path, as they are from the School of Surgery of the Florentine Hospital of Santa Maria Nuova, and by the printed works and instruments of the private collection of Piero Conti. The exhibition has been organized as part of the 113th National Congress of the Italian Surgical Society, held in Florence from 3 to 5 October 2011.

---
---
Copyright © Biblioteca Medicea Laurenziana 2001 – 2016