BIBLIOTECA MEDICEA LAURENZIANA
Home page » Exhibitions and activities » Le Bibbie atlantiche. Percorsi Segni Riverberi
---
Le Bibbie Atlantiche. Percorsi Segni Riverberi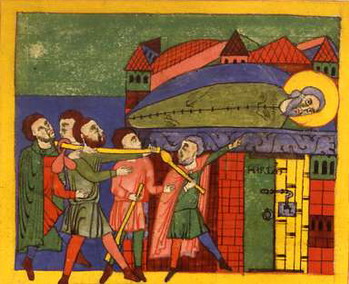 ---
During the celebrations for the III Settimana per la Cultura 'Italia. Una cultura da vivere' (26 February - 4 March 2001) organized by the Ministero per i Beni e le Attività Culturali the Library will inaugurate the exhibition Le Bibbie atlantiche. Percorsi Segni e Riverberi. This exhibition develops some of the issues introduced by the previous Le Bibbie atlantiche. Origini Significati Splendori, held at the Abbey of Montecassino between 11 July and 11 October 2000 as part of the series of events promoted by the Ufficio centrale per i Beni librari, gli Istituti Culturali e l'Editoria in honour of Christ's Bimillenary.
This event aims at displaying a significant choice of 24 Giant Bibles - some of the most spectacular from the holdings of the Biblioteca Medicea Laurenziana, the Biblioteca Apostolica Vaticana, the Biblioteca Nazionale di Napoli and many other historical libraries - in order to show how this type of manuscript, produced at first in Rome in the spirit of the Reform promoted by Pope Gregory VII (d. 1085), spread elsewhere and how it influenced Bible manuscript production in different historical, geographical and cultural contexts.
This is therefore a unique chance to see together a good number of these manuscripts which, for many reasons, represent an extremely significant episode in the history of the Holy Scriptures between the second half of the 11th and the first half of the 12th centuries.
---
Home page » Go up » Exhibitions and activities
---
Copyright © Biblioteca Medicea Laurenziana 2001 – 2016